Kuala Lumpur v Selangor
Selangor defence in the spotlight against Kuala Lumpur and Zaquan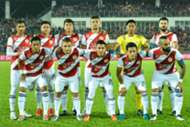 ---
BY        ZULHILMI ZAINAL       Follow on Twitter
---
Although Selangor defeated Klang Valley derby rivals Kuala Lumpur comfortably 2-0 in their 2018 Super League opener, the Red Giants players are all in agreement that the Hawks are no longer the same team that they overcame back in February, ahead of their first leg FA Cup quarter-final tie this Saturday.
Since their league opener, Kuala Lumpur (KL) have produced shock wins over favourites JDT and Kedah, and are currently in a three-match winning streak.
Furthermore, their forward Zaquan Adha Abdul Radzak has been undergoing a resurgence, helping KL beat Kedah 4-3 before scoring four goals in Malaysia's 7-0 win over Bhutan last Sunday.
And Zaquan's form is understandably a cause for concern for Selangor defender and captain Razman Roslan, as he told the press during a Puma promotional event held in Kuala Lumpur on Thursday.
"Our team must not regard Kuala Lumpur as the same team that we defeated earlier in the season. First and foremost they have Zaquan, so we have to work very hard in the match and focus throughout the 90 minutes.
"Zaquan is in red hot form, and our defence will play a bigger role in the match. We have to play our best game and avoid committing mistakes," remarked the skipper.
KL host the first leg match on April 7 at 9.00 pm, with Selangor hosting the return fixture on April 21. Both matches will be played at the Kuala Lumpur Football Stadium, which the two clubs share this season as their home ground.