Mehrajuddin Wadoo
2nd Division I-League: Mehrajuddin Wadoo hails Real Kashmir after clinching promotion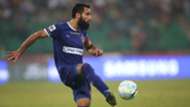 Mumbai City FC defender Mehrajuddin Wadoo expressed his happiness after Real Kashmir FC scripted history on Wednesday by becoming the first Kashmiri club to win promotion to the country's top-tier league. 
Earlier today, Real Kashmir defeated Delhi's Hindustan FC 3-2 in the final game of the Second Division I-League to clinch promotion and are now set to compete in the I-League 2018/19 season.
Speaking exclusively to Goal, Mehrajuddin Wadoo, who hails from Kashmir, said, "It is great news, very good for Jammu and Kashmir football. Real Kashmir has played very well throughout the season. They have got a good team and they deserve this. I am very happy that they have qualified for the I-League."
The defender further stated that now the top Indian clubs would visit Kashmir and it will benefit the local football scene. "It is a very big thing for Jammu and Kashmir football as Real Kashmir are the first club from here to play the I-League. A lot of big teams will visit here now and it will make a big difference," said Wadoo.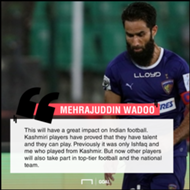 Wadoo suggested that Real Kashmir's achievement will have an impact on Indian football. "This will have a great impact on Indian football. Kashmiri players have proved that they have talent and they can play.
"Previously it was only Ishfaq and me who played from Kashmir. But now other players will also take part in top-tier football and the national team."