Chelsea
Sarri questions Chelsea's 'very strange' character & highlights big problems from Tottenham display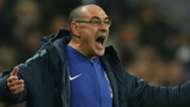 Maurizio Sarri has questioned Chelsea's "very strange" character and is calling for an immediate reaction following his side's 3-1 defeat to Tottenham.
Mauricio Pochettino masterminded an end to his London rivals' 18-game unbeaten run at Wembley and saw his Spurs side leapfrog Chelsea in the table, with the Blues now fourth and seven points off leaders Manchester City.
By his own admission, Sarri was cautious to accept too much praise for Chelsea's start to the 2018-19 season, knowing that his side had not fully grasped his tactical ideas and having seen his team grind out results rather than dominating matches.
And the Italian wants to see a reaction from his players after questioning their character, insisting that he noticed problems physically, mentally and technically in the loss to Spurs.
"The character of the team is very strange," Sarri told journalists at Wembley Stadium. "Ninety three points, the season after just 60 points, then 87 and then 70. Of course, I hope for a reaction. A reaction first of all in training and then in the next match but I knew very well that we have problems and that we have to work.
"Now everybody knows it. We have to work in all directions. I hope [that this can be a wake-up call]. I knew very well that we had problems. I told them this two weeks ago and one week ago. Now I think that the problem is evident.
"I hope it is for them because we have to work and improve. Today, we had a lot of problems from the physical point of view, mental point of view, technically we lost a lot of balls in our half. Also, tactically, because we had a big problem in staying compact."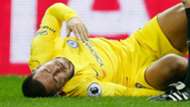 Meanwhile, the Spurs match was the first of 12 in 40 days for Chelsea, in what is a typically busy period in the English football calendar.
The winter schedule sees Chelsea playing two more Europa League matches on top of a Carabao Cup game, as well as an increased schedule in the Premier League.
Sarri thinks that this may limit his ability to iron out issues with individual players, as he focuses on opposition tactics before each match day.
"I don't know, it is very difficult to have time to try to improve the team and solve problems because we have time normally only to prepare for the next match," Sarri continued. "We have to play every three days. But we have to try to do something.
"We have to try to improve as a team, first of all, then player by player."
Chelsea welcome PAOK to Stamford Bridge on Thursday in the Europa League, before the Blues' next league match against Claudio Ranieri's Fulham.