Chelsea
Sarri concedes title defeat with it 'impossible' for Chelsea to catch Liverpool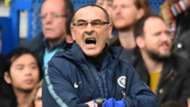 Maurizio Sarri has thrown in the Premier League title towel, with the Chelsea boss considering it to be "impossible" for his side to catch Liverpool.
The Blues suffered a shock 1-0 home defeat to Leicester on Saturday to leave them a long way off the pace.
An 11-point gap to Jurgen Klopp's table-toppers would need to be bridged in order for Sarri's side to get back into the race.
The Italian cannot see that happening and admits his debut campaign at Stamford Bridge is set to see him finish without the English top-flight crown.
"It was impossible from the beginning of the season," Sarri told BBC Sport.
"As I said at the beginning of the Premier League it is impossible to catch Liverpool and Manchester City, we have to be careful to stay close to the first four positions."
Chelsea remain inside the top four for now, but have London rivals Arsenal breathing down their neck.
Only goal difference is separating the two sides at present, with Sarri admitting his concern at seeing the Blues drop points against so-called 'smaller' sides.
He added: "Yes it concerns me, we have to understand the reason for it.
"You can go 1-0 down, the important thing is how you are able to react. There was the time to score two goals today."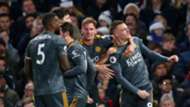 Leicester broke the deadlock against Chelsea six minutes into the second half, with Jamie Vardy grabbing the only goal of the game.
"The match changed after the goal," said Sarri.
"We played well for 55 minutes, after the goal the reaction was not the right reaction. We reacted a little shocked and with mental confusion.
"We had to only keep playing like we did before the goal, there was time to recover.
"I think that of course in some situations we were unlucky but I think that we could have done something better."
Chelsea will be back in action on Boxing Day when they make the short trip to Watford, with it possible that they will have slipped out of the Champions League places by the time they take to the field.