East Bengal CEO Sanjit Sen: We want I-League in our trophy cabinet
East Bengal had just beaten Iran's PAS Club in 1970 thanks to a Parimal Dey goal. A young Sanjit Sen saw his childhood heroes lifting the IFA Shield trophy but little did he know that he would be more than just a fan for his beloved East Bengal football team around four decades later.
Going through the grind of the corporate world after earning a Chartered Accountant's degree, Sen was appointed Chief Executive Officer of Quess East Bengal FC after multi-national firm Quess Corp bagged 70 per cent stake in the 99-year-old club's football team in July 2018.
Handling the expectations of more than a million fans comes with its own set of challenges. Here, Sanjit Sen gets candid with an exclusive chat with Goal.
Do Quess have plans of taking over any other stadium in the future and make that the home ground of Quess East Bengal FC?
The East Bengal ground has a huge legacy. To us, it is more than a museum and is extremely close to our heart. That ground has been a witness to the club's several accolades and achievements. Legendary players have set their foot on that pitch.
Yes, of course, there is the issue of seeking permission from the Army before setting up any permanent structure inside the club premises. But I want to specifically point out that the current infrastructure of East Bengal is way better than any other club in Kolkata football. The club officials have done a great job over the years to improve the club's infrastructure. So yes I don't know if the Army will give us the permission but we will try our best to further refurbish the club.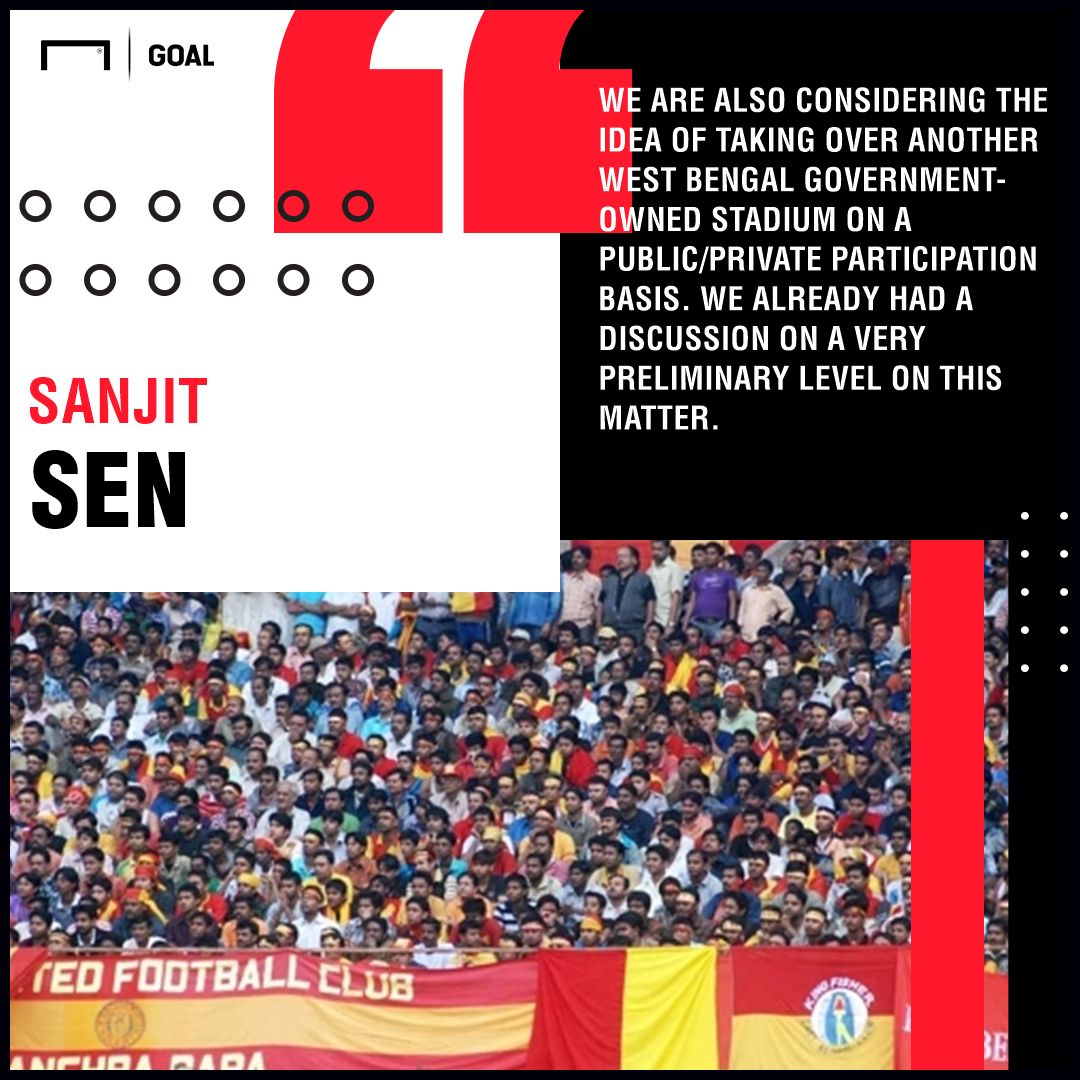 We are also considering the idea of taking over another West Bengal Government-owned stadium on a public/private participation basis. We already had a discussion on a very preliminary level on this matter. There was a meeting held at the Salt Lake Stadium where some members of the Chamber of Commerce, representatives of the state government and the CEO of the stadium were present.
Regarding a takeover of a stadium, the Government representatives gave us a proposal. I myself spoke to the board members of Quess Corp and they are evaluating such an idea. This happens all over the world so if we can get the benefit, training wise and other footballing aspects as well as the comfort of the fans, we will be definitely evaluating it.
What are Quess' plans regarding youth development of East Bengal club?
We have an existing residential U-18 academy.  Former Tata Football Academy (TFA) coach Ranjan Chowdhury is in charge of the academy. He is, of course, a great coach at the youth level. Our head coach Alejandro Menendez has worked at youth level of top European clubs for a significant part of his career. So he was very eager to know about our youth system from his day one at the club. He has personally attended training sessions of our youth sides.
Regarding the other age group teams like U-15, U-13, U-10 we have to be very serious as they are our future. I would say not only us but every football club in India must focus on improving their youth sides as they are the very foundation of improving the football standard of the country. We will be definitely working more on improving the youth system of the club.
Any plans for starting football schools across the country?
The football developing schools are the source for the academies of clubs across the world. We have plans to start those football schools. There are baby leagues going on North Eastern states and Bengaluru. As Quess already have their base in Bengaluru, we will start taking initiatives there very soon. These will be the points of scouting for us.
We will also start a reserve or 'B' side of the team soon. The players who are graduating from U-18 level need game time so the system of starting a reserve team will help them develop further as players.
The club already had the process of promoting the academy players into the senior team before Quess came on board. Yami Longvah and Mehtab Singh came last season. This season Manoj Mohammad has come in and is playing the I-League matches. We are also thankful to Alejandro that he is giving ample opportunities to the young players.
Can East Bengal end their I-league jinx this season and bring home the trophy?
I-League has remained elusive to us. We need it in our trophy cabinet. East Bengal fans are motivated bunch who will not settle for anything less than a victory. So it is up to the players and coaches now to deliver on the pitch. Winning the I-League will be an icing on the cake more so as it is the centenary year of the club. Let us hope for the best.