Manchester City
'Sanchez is brilliant but Man City don't need him' - Noel Gallagher has full faith in Guardiola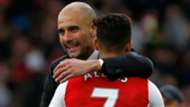 Manchester City "didn't need" Alexis Sanchez, says Noel Gallagher, although he concedes the Chilean is "brilliant" and will improve arch-rivals United.
An expected arrival at the Etihad Stadium never materialised for the Chilean forward, with a lucrative offer from Old Trafford luring him away from Arsenal and onto the Red Devils' books.
City could have been forgiven for feeling aggrieved at seeing a top target snatched from under their nose, but they already boast a star-studded squad which is hardly short on creativity and goal threat.
Taking that into account, former Oasis frontman Gallagher is not overly concerned at having seen the 29-year-old choose red over blue – although derby doubts have been cast in his mind.
He told Soccer AM: "I wouldn't say I was gutted but I would've had him because he's brilliant.
"No, we didn't need him, it would've been a little bit greedy I suppose. United needed him more for sure and that's why they paid all the money for him.
"He gives them a fighting chance in the Champions League now and you just know he's going to score the winner in the derby, but hopefully it will be all tied up by then."
While shrugging off one failed arrival, there is one possible departure that Gallagher hopes to see avoided at City for the foreseeable future.
Guardiola may have ended his debut campaign at the Etihad empty-handed, but the former Barcelona and Bayern Munich boss has rekindled his old magic this season to have his team chasing down major honours on four fronts.
Keeping him in Manchester is considered to be essential, with Gallagher confident that the Catalan will stick around to oversee a long-term project.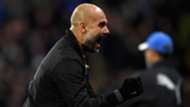 He added: "He's not going to leave I don't think. Please don't leave!
"I don't know, I can see him staying for a while actually. I can see him being there for five years and I think the reason they got him was to lay down the foundations for a style of play that will carry on.
"He's a one-off, there are no coaches like him so when he does eventually leave, I don't know."
"I think he's doing something really special there.
"I still think against the big teams we need David Silva playing and all the big guns out but against the rest, once we get to the run in when teams need points, it should open up a bit. We've got big players to come back in Benjamin Mendy and Gabriel Jesus.
"What's interesting is that in the first season he didn't win anything but he's gone this is what I need and from the first game they've been getting late, late winners and there seems to be an amazing team spirit.
"The second half of the season is going to be tough because everyone has strengthened. United are going to be there."