Barcelona
Samuel Umtiti's journey from Yaounde to one of the worlds best defenders
Ignasi Oliva Gispert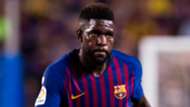 The return of Samuel Umtiti marks a huge boost for Barcelona ahead of their crucial Champions League clash against Lyon. For the defender the match also has a special meaning as he faces the team that sent him on the way to stardom. 
Umtiti was born in the capital of Cameroon, Yaounde, but moved to France at the age of two, with his family settling in Lyon. He grew up kicking the ball around at school and before too long was already starring for neighbourhood club Menival. 
Roland Rimet-Mignon was tasked with teaching Umtiti and the rest of Menival's hopefuls, whom the defender joined at just five. 
"I met him when he was very young," the coach recalled to Goal. "He came to us early because his school was opposite the club and since he already had a passion for football, he joined up with Menival."
Umtiti began, like most talented youngsters, as a forward, but was convinced by Menival to drop back down the field, a fateful decision that culminated in him finally settling into the centre of defence once he joined Lyon. 
Even at the tender age of eight, his ability was clear to all observers. "There was a point in which when I saw Samuel play, I told myself 'this kid can't stay here, he is already better than everyone," Menival academy chief Regis Molouba stated. Despite his age, Molouba did not hesitate: "I made my move so that OL would not lose sight of Umtiti." Luckily for the club, they listened.
To begin with, however, Lyon struggled to recruit the young Umtiti. "They did not have access to Samuel's guardians," Molouba explained. 
"I went to see Samuel's mother to tell her that her son was good, that Lyon were interested in him and that this was an opportunity they could not let go." Annie Ngo Um did not oppose her son's signing, and Molouba came to be Umtiti's personal trainer as he prepared to take the step up. "I developed a personal program for him and we would work every Sunday from nine in the morning until midday because he did not have to go to school.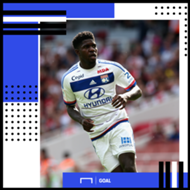 "We would run through the streets of Lyon and we kept that up for a long time, even after signing for Lyon we would work during his school holidays with intensive sessions to prepare for the season ahead."
Umtiti passed his Lyon trial at the first attempt, and 10 years later - after moving back to defence - was ready to make his debut for the first team. In his first match Lyon took down local rivals St. Etienne in a cup tie, prompting then-coach Claude Puel to sing the 18-year-old promise's praises: "He has adapted amazingly to a game of such importance."
Just four years on from that auspicious debut Umtiti was Barcelona-bound, moving to Camp Nou in a €25 million (£21.3m /28$m) switch ahead of the 2016-17 season. This year's injury woes notwithstanding, he quickly became one of the first names on the Barca teamsheet and played a key part in them capturing the 2017-18 Liga title among other trophies.
The centre-back boasts for good measure a World Cup winner's medal, having headed home the semi-final goal that put France into the final in Russia as they overcame Belgium. Now, having completed 90 minutes against Sevilla for the first time since November in February and repeating the feat at the weekend for the victory over Rayo, he is looking for Champions League glory. 
His first club and boyhood mentors, of course, now stand in the way. Umtiti has come a long way since he first walked into OL as a boy, but he knows better than anyone how important Lyon have been in creating one of the finest defenders currently active in world football.