African Nations Championship
Sam Nyamweya appeals for Caf patience as Chan rights slip away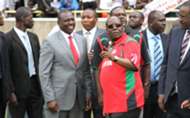 Sam Nyamweya has appealed to Confederation of Africa Football (Caf) to spare Kenya the embarrassment of taking away hosting rights for Chan.
The former Football Kenya Federation President has appealed to the continental body to have confidence that Kenya will be ready to successfully host the tournament come January, 2018.
Caf is expected to announce on September 23 during their National Executive Meeting in Ghana, whether Kenya will host the game or not.
Kenya was given until August to show commitment that they are ready for the game by putting in place all the needed infrastructure, but that process is moving at a low pace.
The recently annulled Presidential election by the Supreme Court of Kenya has even complicated matters with the country set to go for another poll in under two months.
"I wish to request Caf to give Kenya that benefit and be confident that we will be ready to successfully host the tournament come January.
"Kenyans are a very resilient people and the recently-concluded IAAF World Youth Championships attest to that fact," Nyamweya said in a signed statement obtained by Goal.
Meanwhile, Nyamweya is also appealing to his successor, Nick Mwendwa and the Chan Local Organizing Committee to adopt a bi-partisan approach and bring on board every single individual or institution so that they can save Kenya from shame.
"It is time to adopt a bi-partisan approach and bring on board every single individual or institution so that together we can save our great country of any shame that might be imminent should Caf pass a vote of no confidence in our ability to stage the showpiece."