Carlos Salcedo
Mexico's Carlos Salcedo ruled out of Confederations Cup due to shoulder injury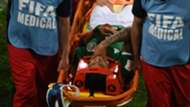 Mexico defender Carlos Salcedo will miss the remainder of the Confederations Cup due to a shoulder injury suffered against New Zealand.
It was a disappointing outing for Mexico, which stumbled to a 2-1 win over lowly New Zealand and lost Salcedo to an AC joint injury on Wednesday.
Osorio lucky to lead El Tri to win
Salcedo was forced to leave the field on a stretcher after landing on his shoulder during the first half of the Group A clash in Sochi.
Mexico are unable to call in a replacement for the injured 23-year-old, who has joined Eintracht Frankfurt on loan from Guadalajara.
The injury also stirred up a bit of trouble during the match, with New Zealand and officials not stopping play and Mexico manager Juan Carlos Osorio reacting angrily on the touchline . 
The Mexicans made it four points from two matches thanks to their second-half comeback, which saw Raul Jimenez and Oribe Peralta cancel out Chris Wood's 42nd-minute opener in the fiery encounter as tempers boiled over.
 | NOTA | Por lesión, @Csalcedojr causa baja de nuestra concentración.

Detalles: https://t.co/njNVGI1Mum #SomosMéxico pic.twitter.com/ETBs0ddHax

— Selección Nacional (@miseleccionmx) June 21, 2017
Despite the positive results through two matches, El Tri will likely need a result against Russia in their final outing to pass through to the Confederations Cup semifinals. 
Mexico currently leads Group A on goal difference, but sits just one point clear of the host nation and is level on points with Portugal, which will face New Zealand to close out group play.