Africa Cup of Nations
Safa: South Africa can't afford to host 2019 Afcon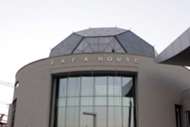 The South Africa Football Association (Safa) has responded to reports that they could be in line to host the upcoming 2019 Africa Cup of Nations.
On Friday, Caf confirmed its decision to strip Cameroon of hosting rights ahead of the showpiece event after it was deemed that they would not be ready in time for the event.
This immediately sent speculation into overdrive that Morocco, Egypt and South Africa could step in at the last minute to take over as hosts.
Nonetheless, Safa spokesperson Dominic Chimhavi has spoken to Goal about the possibility of hosting the event.
"We also seen those reports and don't forget that the Safa president is also an executive member of Caf," Chimhavi told Goal on Saturday.
"But as things stand, our position is that we need liaise with the minister, we need to liaise with Caf themselves, because the short space of time, the bidding process is going to be changed.
"So, we want to find out what are the bidding processes," he added.
While Chimhavi admits that South Africa are in an ideal position to host the Afcon, he has revealed that Safa's financial woes may prove to be a stumbling block.
So, as things stand are we interested in hosting the Africa Cup of Nations 2019,?" Chimhavi quizzed.
"With our financial situation no," an honest Chimhavi revealed.
"But if Caf comes up with certain incentives to say we are going to look after everything and we just provide the venue, I think we can host," he said.
"Our financial situation doesn't allow us to host. But we also have to talk to the government, so at the moment nothing has been decided as yet," Safa's spokesperson stated.
"We will see what Caf comes with and we will also liaise with government to see if they are interested in bankrolling this project. But you know in recent times the government has been saying, we need to exercise the tightening of the belt," he continued.
"We have the capacity. South Africa is the only country that can host the event tomorrow. We have the capacity to host a 24-team Africa Cup of Nations, but as I say, the financial unfitness might put to bed any attempt because we don't have the money," he concluded.