Kaizer Chiefs
Rudolph Seale: Kaizer Chiefs will benefit from Lebogang Manyama and Khama Billiat partnership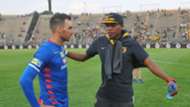 As Kaizer Chiefs hope to bag their first league win of the season, club legend Rudolph Seale believes they can win if they use Lebogang Manyama wisely against Cape Town City.
The former Amakhosi left-back spoke to Goal on Tuesday, saying Manyama can boost Chiefs' strikeforce when used with Khama Billiat on Saturday at the Cape Town Stadium.
"I think these are tough times times for the club because they might be playing good football, but it may also look like it's going be a 'dejavu' of what happened three years back," Seale told Goal.
"Yes, they failed to lift trophies in three seasons under Steve Komphela and that raises questions now as to whether was it the coach who failed to win things or there is anything else," he added.
"It looks like those days are coming back because they are now going to play six matches without acquiring their first three points and you cannot say you are challenging for the league with that run because we can't say this is a start of the season," he responded.
"On the contrary, Steve is doing well with Bloemfontein Celtic and it becomes puzzling when you look at their budget and comparing it to Chiefs," said the Soweto-born legend.
Speaking of the 27-year-old attacker, Seale believes that Khama Billiat cannot do everything on his own, saying that he needs a player like Manyama to help him.
Seale has also praised the Soweto giants for signing great players in the recent transfer window and he hopes coach Solinas will finally have his first league win.
"I think Chiefs needed an out-and-out striker and a player in Manyama's mode is a perfect signing," added Seale.
"Khama cannot play alone in terms of dribbling and scoring a goal or two. Yes, he can do that at times but to do that he must also pass the ball to a finisher," reacted the retired defender.
"I think he will play well together and Manyama will feed off Khama's brilliance. Manyama can also create space by pulling defenders away from Khama – in that way they can trouble defenders and score goals," he continued.
"Defenders are also clever these days and they are doing well, but based on Manyama's history, I think Chiefs have signed a wonderful player and they will reap the rewards, but it all depends on how the coach sees it and uses them," concluded Seale.