Ross Barkley
Chelsea will give Barkley discipline to help him reach potential, says McManaman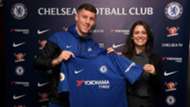 Steve McManaman says Ross Barkley's £15 million move to Chelsea is what the midfielder needed to realise his potential as he will become more disciplined under manager Antonio Conte. 
The ex-Everton midfielder has long been regarded the jewel of their academy but despite having made 22 appearances for England, many still believe he hasn't developed as expected. 
However, Conte's side will no doubt be boosted by his creativity once he returns from a long-term hamstring injury. McManaman thinks that Barkley has made the right decision to leave his hometown club for the Premier League champions, as he takes the No.8 shirt once worn by Frank Lampard. 
"He needs that little bit of discipline and playing with a better quality of player, no disrespect to Everton, he will come on a lot," McManaman said. "He's got big boots to fill Ross Barkley after Frank [Lampard]. He's a really good player, it is a good move for him and Chelsea will make him much better.
"He will become more disciplined and he will improve. They've got a huge squad. He needs to play but he's got huge competition in front of him. He will have wanted to play for a while but now he's up against Willian and Pedro. People like that.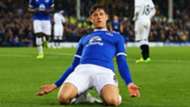 "I think playing with them and working with Conte he will improve - and I think he needed that to improve. Ross has been around for a while, he has the talent but he just needs to nurture it now.
"He needs to be told that's right or that's wrong and that decision is right or wrong and I think he will improve because of it. When Frank moved was a long time ago and Chelsea were a different club.
"If he's half as successful as Frank Lampard then he will be a superstar, but Chelsea are virtually the finished article now and it is going to be hard to get into the squad and team first of all."
Barkley hasn't made an England appearance since April 2016 and he was dropped from Roy Hodgson's Euro 2016 squad, despite appearing in the World Cup in 2014. 
Gareth Southgate will soon decide his selection for the upcoming World Cup in Russia, and McManaman believes Barkley is taking a risk with his immediate chances with the Three Lions by moving to Chelsea but thinks he had to experience a Champions League club sooner or later.
"It is important that he plays and that he plays well to try and get back into the England squad. That's what he wants with the World Cup coming up," McManaman added. "Unfortunately [Danny] Drinkwater hasn't played as much as he would have liked.
"I hope that doesn't happen with Ross Barkley, but he is a good English player in one of our better teams. That helps us with England going forward. We want all our better English players to improve and then do the business in the summer - but they need to play.
"I don't know whether Drinkwater is happy with his move, going from being the star man at Leicester to a big fish in a small pond, that sort of thing. You have to play for the better sides and you have to test yourselves against the better players to try to show you are better than N'Golo Kante or Tiemoue Bakayoko.
"When Drinkwater plays, he plays very well. There's lots of rotation. Drinkwater can still play 40 games if he's fit and well."
BT Sport is where the best in sport go head to head, bringing you live coverage of the Premier League, UEFA Champions League, UEFA Europa League and Emirates FA Cup