Ronaldinho Gaúcho
Ronaldinho weighs in on Ronaldo/Messi debate, in Kuala Lumpur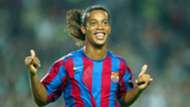 ---
BY        ZULHILMI ZAINAL       Follow on Twitter
---
Former Brazil and Barcelona star Ronaldinho is currently in Kuala Lumpur, Malaysia as part of the UEFA Champions League trophy tour organised by Heineken. On Saturday he spoke to the local press, who fielded questions on his playing days and this season's tournament.
On his visit to Malaysia: 
It's not my first time in Malaysia, but I'm always happy to be here, and to have received the warm reception.
Who will win this season's Champions League:
All the clubs are good, but I'm rooting for Barcelona!
Any chance of his other former club PSG winning the competition in the near future, after spending big in the past few years?
In football, even when you sign great players you need some time to put together a winning team. I believe in the next few years they will win the Champions League.
On the best player debate; Cristiano Ronaldo or Leonel Messi:
Messi. I would have loved to continue playing alongside him. I didn't get enough time with him, he was very young. I'd love to take to the pitch with him one more time.
Who were the best defenders he has faced?
I've played against many great defenders, but in my opinion Italian centre back Paolo Maldini was not only the best defender I've faced, but also the best defender of all time!
On any regrets from his playing days:
I don't really have any regrets. I ended my playing career having fully realised all the dreams I had, individually and with the teams I played for. I'm a satisfied man.
The former Champions League winner will make another appearance in Kuala Lumpur, on Sunday, April 8 at the Pavilion shopping mall.