African All Stars
Riyad Mahrez made a mistake going AWOL, says Leicester City's Claude Puel
Riyad Mahrez made a mistake embarking on a self-imposed exile, according to Leicester City manager Claude Puel.
The Algeria international who returned to action as a second-half substitute in the Foxes' 5-1 defeat to Manchester City on Saturday, refused to turn up for club activities after failing to secure his desired move to the Etihad Stadium in January.
The winger, thus, missed several training sessions and two games for the former English Premier League champions.
"I think since the beginning of the situation it was tough to manage, but all the time we kept united about this situation and about Riyad," Puel was quoted as saying by Leicester Mercury.
"That was the most important thing.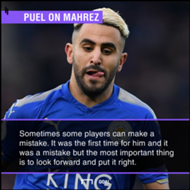 "Sometimes some players can make a mistake. It was the first time for him and it was a mistake but the most important thing is to look forward and put it right.
"He is a fantastic player for us, his team-mates and the fans. It is a pleasure to watch him.
"It is important we continue together.
"Riyad coming back is a good thing for us and now it is important he has a good focus and concentration about his football.
"I think all the players welcomed him back with a good feeling. I think that is important. It is important to come back.
"The situation was difficult for him but difficult for everyone. It was important to approach the situation with calm and to come back together on the pitch, and to defend the colours of the club.
"This was the important thing and I hope for the future we have all this squad with a positive attitude to develop for the future."
Mahrez, who has scored nine goals and made seven assists in all competitions for Leicester this season will be looking to help his side topple Sheffield United in an FA Cup encounter on Friday.