Germany
Real Madrid star Kroos tells troll to go and get sick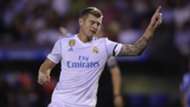 Real Madrid midfielder Toni Kroos has refused to accept criticism for airing his political views, telling a troll to go and get sick.
The Germany international may be playing his domestic football in Spain nowadays, but he remains an interested observer of goings on in his homeland.
With a battle for power currently in full swing, Kroos appeared to nail his colours to the Angela Merkel mast following a leadership debate on Sunday.
His opinion — having tweeted "Long live Angie!!!" — was not universally well received, with some followers questioning his decision to get involved and offer an opinion in public.
Es lebe Angie!!! #TVDuell

— Toni Kroos (@ToniKroos) September 3, 2017
Kroos has, however, hit back and urged one responder who told him, "I could puke when athletes tweet such a confession", to go and do just that.
Mach doch https://t.co/4zokUSMtPo

— Toni Kroos (@ToniKroos) September 3, 2017
Kroos, as a high-profile figure, has met Merkel on several occasions.
The German Chancellor was an avid follower of the 2014 World Cup finals, having been a regular at international fixtures since Germany staged the showpiece event in 2006.
She celebrated wildly as her country claimed a fourth global crown in Brazil, and was invited into the dressing room after the extra-time victory over Argentina to toast the success.