Reading
Reading boss hails Andy Yiadom transfer from Barnsley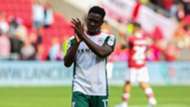 Reading FC manager Paul Clement has expressed delight about their acquisition of Barnsley captain Andy Yiadom. 
The Ghana international will be the Royals' first signing of the summer transfer window when a four-year contract kicks in upon expiration of his Barnsley deal on July 1.
He was rumoured to be on his way to Leeds United, having also been linked to Swansea City. 
"I'm very happy that Andy is joining Reading as my first signing since I've been here," Clement said, as reported by his club's official website. 
"He is someone that I've known for a while, and whose progress I was tracking when I was at Swansea. So I'm very happy that he has joined us on a long-term contract.
"He comes here with valuable experience of the Championship – he's a good age too, and he has the right desires and ambitions which will help us to move forward with this club.
"Over the course of this window there will be some things that we try to do quickly, especially when there are good players available on free contracts – and of course some of our business will go late. But we're delighted to get one over the line so early."
Yiadom's qualities go beyond the pitch, having captained Barnsley and former side Barnet. His leadership experience will be brought to bear at his new home. 
"One of the things that I want to work on with the team is developing a strong leadership group," Clement added.
"We want to bring in players that are mature and driven – and it helps if they have experience as captains at other clubs too."
Last summer, Yiadom, who made 32 appearances involving 31 starts in the Championship, came close to sealing a move to Premier League side Huddersfield Town.
The deal, however, fell through at the eleventh hour due to a reported failed medical.