Thierry Manzi
Rayon Sports receive boost as captain Manzi Thierry returns from suspension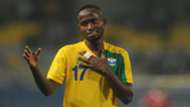 Rayon Sports received a massive boost ahead of their Caf Confederation Cup clash with Enyimba following the return of captain Manzi Thierry.
The Gikundiro Lion defender missed the first leg 0-0 draw staged at the Nyamirambo Stadium, and he will be expected to play a key role in Aba.
Our captain Manzi Thierry
is back in the squad that will face @EnyimbaFC
in the return leg after missing 1st legdue to the @CAF_Online
suspension...

Africa, get ready for the #Gikundiro Lion

📷 @Anithausanase pic.twitter.com/uTpufx9Xki

— Official Rayon Sports (@rayon_sports) September 19, 2018
Coach Roberto Oliveira's men would be hoping to upset the two-time African champions as they eye their first continental semi-final place.
They are expected to land in Aba on Saturday afternoon for the make or break showdown billed for the Enyimba International Stadium.