Copa America
Qatar to join Brazil & Argentina in 2019 Copa America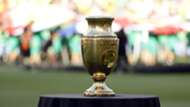 Qatar will participate in the 2019 Copa America, according to the director general of the Aspire Academy Ivan Bravo.
The Asian nation will host the World Cup in 2022 but are set to test themselves against the five-time winners of that competition Brazil, as well as two-time champions Argentina, in South America three years prior.
With the 2019 Copa set to be comprised of 16 teams for the second edition in succession, Qatar will be one of CONMEBOL's six invitees for the tournament in Brazil.
"It will be the first time that Qatar has faced teams such as Brazil and Argentina," Bravo said at the Bilbao International Football Summit on Thursday.
"It will be a unique opportunity for the national team to gain experience, so that it can compete on the right level at the 2022 World Cup."
It was reported that CONMEBOL were in discussion with Portugal and Spain about taking part in the 2019 Copa, but it is now expected the invitees will be split between CONCACAF and the Asian Football Confederation.
Japan competed in the tournament in 1999 and remain the only Asian team to take part, but that is set to change next year. 
Invites have also been extended to nations such as Spain and China in the past, but both teams have declined or withdrawn due to scheduling issues.
Invitees have generally come from CONCACAF, with Mexico taking part on 10 occasions, which is the most of any team from the federation.
The United States have competed four times - most recently in the Copa America Centenario in 2016, which they hosted.