Ligue 1
Q & A with Keagan Dolly after PSG league game
South Africa Chief Editor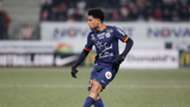 Goal: How do you feel you're progressing in France so far and how much of a challenge was it against PSG?
Dolly: Obviously, this being my first year in Ligue 1 and to play against PSG is something new and something I can learn from.
You know, learning from the big name players they have, we can grow as a team and as individuals.
As a South African player new in France, how do you think you are adapting in Ligue 1?
Dolly: I think in the first few games it hasn't been easy but once I started playing more, I started getting my confidence and I started to get used to everything.
I think I settled in quite well.
What about getting used to your teammates at Montpellier?
Dolly: Yeah, you know, I think it's getting better by the day. It just took time for me to start understanding the whole culture and language but now I'm picking up a few words.
Things are much easier than when I first came here.