Asian Games
Poor finishing costly lesson for Malaysia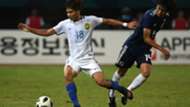 Safawi Rasid produced an outstanding free kick that needed Ryosuke Kojima to be on his toes to tip over the bar, then the Johor Darul Ta'zim forward crashed a shot against the post before Syafiq Ahmad nodded just wide - all very good chances for Malaysia to take the lead in the Round of 16 clash against Japan.
But none of those efforts hit the back of the net and Japan ruthlessly punished Malaysia's profligacy in front of goal when they eventually scored the winner through Ayase Ueda struck home a penalty kick to knock Malaysia out of the competition.
Like the game against South Korea, Malaysia were put on the back foot for most of the match with the Japanese side dominating possession and constantly being able to recycle the ball from side to side.
Yet, the defence stood strong and perhaps there was a hint of tiredness creeping in that meant Dominic Tan switched off for a moment which allowed Ueda to creep in behind him. Malaysia could have strong arguments against the award of the penalty but the referee stuck to his decision.
"Before the game we know that the Japan team have very strong striking option. You can see that they put out a different team than the one that played Vietnam. Even though we held them to the 86th, 87th minute but they kept on trying. That's the difference.
"They made their chances count and we don't convert earlier and got punished. It's unfortunate that we can't take Japan to extra time. The first XI that played gave their best and there's no reason for me to change them. 
"We want to go further but we lost to a better team. Even though they are 21 years old, look at their team. Technically they are much more superior but we made it difficult for them. And at the end of the day, we are not far from them at this age group and we need to work harder," said Ong Kim Swee in the post-match press conference.
After the a final appearance in the SEA Games in 2017, reaching the quarterfinal in the AFC U23 Championship earlier this year and now this tournament represents the finale for this batch of players as a group. 
With only half of the squad being available for the Tokyo 2020 Olympics qualifier, head coach Ong will have to rejig his team once again to ensure that the momentum gained from this batch doesn't go to waste.
The bar have been set at quite a considerable height with the relative success of this U23 team and despite the unwanted early return to Kuala Lumpur, Ong can still look back at a competition where Malaysia more than made their fair share of contribution.