Manchester United
Pogba reveals new look as Man Utd prepare for return to Premier League action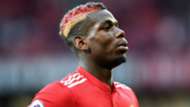 Paul Pogba will be sporting a bold new look when Manchester United return to Premier League action at Stoke on Saturday.
Having spent time away with France since his last domestic outing, the 24-year-old has decided that it is time for another image change.
Man Utd 11/2 to beat Stoke 2-0
He left for World Cup qualifying duty with a blonde streak in his hair, but has embraced being a Red Devil as he prepares to step back into the fold with Jose Mourinho's side.
A post shared by Paul Labile Pogba (@paulpogba) on Sep 7, 2017 at 4:29pm PDT
Pogba has enjoyed a productive opening to the 2017-18 campaign.
He has two goals in his three Premier League appearances to date, with those efforts helping United to nine points and a standing at the top of the early table.
His performances have also landed him the club's Player of the Month award for August.
Pogba will be looking to maintain those high standards when he steps back into action this weekend, with it vital that he continues to make as many headlines for his displays as he does his image.
There is, however, no doubting that the Frenchman has become one of the game's most iconic figures.
That standing has been enhanced this summer by the revelation that Pogba is the biggest draw when it comes to UK shirt sales, with his branded United jersey outselling the likes of Romelu Lukaku, Lionel Messi, Cristiano Ronaldo and Neymar.