Premier League
'Pogba needs to do better' - Man Utd legend Keane delivers blunt response to position debate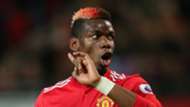 Paul Pogba "needs to do better" at Manchester United, according to Roy Keane, as the debate surrounding the midfielder's best position rages on.
With the France international facing criticism after struggling to adjust to tactical tweaks by Jose Mourinho, various high-profile figures with links to the Red Devils have given their take on how to get the best out of an £89 million asset.
Keane, as an iconic midfielder of the past, is better placed than most to provide an opinion on how to operate in that area of the field.
The outspoken Irishman has, however, offered a typically blunt response when quizzed on the Pogba poser, expressing the opinion that a player considered to be among the best in the world should be able to deliver in whatever role is asked of him.
"If you are going to play in midfield, you should be able to play in a two or a three," Keane told ITV.
"The guy needs to do better himself and focus on what football is really about."
Unfortunately for United, it is not just the midfield engine room which is posing problems at present.
Questions are also being asked of their defensive unit, with Keane suggesting that long-standing issues have not been addressed, with players being played out of position in order to plug gaps.
He added: "They haven't sorted out the defensive problems they have had over the last few years and that will continue.
"The two centre-halves need to do better. I've always thought with Ashley Young in your back four, you are going to struggle."
United have wobbled of late, suffering two defeats in their last three outings, and need to turn things around heading into a crucial run of games which will see them face Huddersfield, Sevilla and Chelsea across FA Cup, Champions League and Premier League competition.
Keane said on those challenges: "I don't care about the last few league games. Sevilla will give them a game but United should win.
"They will turn up for these couple of big games and I think they'll go through."