Perak
Perak's Brendan and Robert kickstart RNB vlog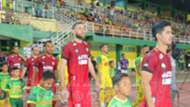 Perhaps they are preparing for life after professional football and by the looks of it, both are natural in front of the camera.
Brendan Gan and Robert Cornthwaite have partnered to come up with a video blog that speaks about their lives behind the scenes as a footballer.
The project is aptly named RNB where the two first names of both players were combined to make the title.
In the first video that was published on Youtube yesterday, both spoke about what the project is about and what fans can come to expect in further videos.
There was also a very nice bit of editing in which they took the mickey out of Cornthwaite's supposed goal against Kedah earlier in the season, with some funny clips inserted.
Looks like fans can expect a lively banter between the two in videos to come, as you can see from the video below.