Guardiola
Pep sits next to Russian supermodel at PSG-Monaco game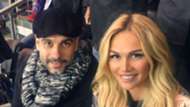 Manchester City manager Pep Guardiola was in France on Sunday night to take in the sights at the Parc des Princes as Paris Saint-Germain hosted Monaco.
The Citizens face Monaco in their Champions League knockout clash, hosting Leonardo Jardim's side on February 21 before travelling to the principality on March 15.
Wenger reacts to Benzema rumour
Guardiola watched as Monaco drew 1-1 with PSG in the Ligue 1 game, but may have been distracted by his neighbour in the stands during the game.
The City boss was accompanied by Russian supermodel Victoria Lopyreva, who is an official ambassador for the 2018 World Cup in her home country.
The 2003 Miss Russia has been involved in football since 2007 when she began presenting the television show Football Night in Russia. She was also married to former Feyenoord striker Fyodor Smolov, who now plays for Krasnodar.
Mikel Arteta later joined Guardiola in the stands, and watched as Monaco returned to the top of the Ligue 1 table through Bernardo Silva's stoppage time equaliser.