Orlando Pirates
Patrick Phungwayo: I had my fair chance at Orlando Pirates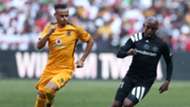 Free State Stars defender Patrick Phungwayo has learnt an awful lot while on the books of Orlando Pirates and feels that he has matured since his time in Parktown.
"I enjoyed every moment with Pirates. People don't understand, you learn so much in football, especially with the team like Pirates," Phungwayo told the media.
His time at Bucs was met with injuries and the form of Thabo Matlaba forced him to spend more time on the sidelines than on the playing field.
Following his arrival in 2012, Phungwayo went on to make 73 appearances in all competitions under no less than seven coaches at Pirates.
"I've learnt so much. I've grown as a player. I'm matured now. I don't think there's any situation that I could face and defeat me," Phungwayo said.
What's also pleased the former Bucs left-back is being part of the club's march to six successive finals in two seasons.
"Pirates has done so much for me as a player. I've taken the opportunity and I'm grateful. I went to how many finals with Pirates? I was out for nine months. I had injuries but I went to finals with Pirates. I went to five finals with Pirates. I could have had the star but it wasn't to be," Phungwayo said.
"I had my fair chance at Pirates and I'm happy with my contribution and what I learnt," Phungwayo added.