MLS
Orlando City's Will Johnson permitted to return to action by MLS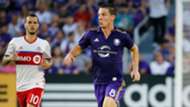 Orlando City midfielder Will Johnson will be allowed to resume team activities after an "alleged domestic incident on September 5," Major League Soccer said Friday in a statement.
Johnson was arrested for the incident, which involved his wife, but the statement from MLS says that no charges will be pursued in the case. 
"Major League Soccer today confirmed that the prosecution will not pursue charges against Orlando City SC midfielder Will Johnson with regard to an alleged domestic incident on September 5, provided that he completes a year-long diversion program, including a 26-week domestic violence counseling program," the statement from the league reads. 
 
"The League Office has also completed its independent investigation and Johnson is now permitted to return to team activities and competition in light of the suspension that he has already served.The evidence reviewed by the MLS League Office does not establish that Johnson physically assaulted his wife. Nonetheless, the League Office has concluded that his overall conduct the night of the incident was not consistent with League policy. As a result of all of the circumstances, the League Office has concluded that the five-game suspension served was appropriate."
An 11-year MLS veteran, Johnson has recorded two goals and three assists in 25 league appearances since signing with Orlando this past offseason. The three-time All-Star previously has played for the Chicago Fire, Real Salt Lake, the Portland Timbers and Toronto FC.
Orlando City has been eliminated from playoff contention and Johnson's return comes with just two matches remaining in the season.