KPL
Oracle Kenya register vital win in Left Foot league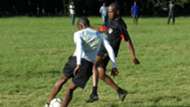 Oracle Kenya cruised to a hard fought 2-1 win over Letshego Limited in a Division Five match of Left Foot league played over the weekend.
Fabian Ochieng' put Oracle Kenya ahead in the 30th minute before Abubakar Muindi doubled the scores for a comfortable lead at the half-time break. Geoffrey Kibathi pulled a consolation for Letshego in the 70th minute.
In other matches, Senti Milan beat Mwamba FC 2-1; Creative Innovations thrashed EXP Momentum 4-0 while Tradewinds won 2-1 against Villareal FC.
West Ham United won a thrilling contest in Division One after they staged a remarkable comeback to beat Black Diamond Club 4-3. Bethel FC A managed a 0-0 draw against Hurlingham FC, Rapid Communications drew 1-1 with GreenZone Properties and Madaraka United lost 1-0 to Consolidated Bank.
Saad Advocates maintained their good run in Division Two after they beat Best African Cosmetics 3-0, Toyota Kenya drew 0-0 with Dayliff FC and Schindler managed a 1-0 win over Disciples FC,
In Division Three, Shani Active drew 1-1 with NIC Bank, Cosmos beat Samba FC 2-0 and Young Boys drew 1-1 with HHM.