Young Africans
One player impresses as four others disappoint for Yanga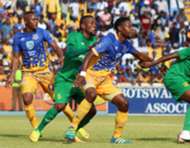 Yanga have been eliminated from the CAF Champions League by Township Rollers after playing a goalless draw in the second leg tie of the fixture in Gaborone, Botswana.
In the first leg which was held in Dar es Salaam, Yanga were defeated 2-1. Yanga will now drop into the CAF Confederation Cup and they will await a draw which will be held on March 26.
Here is how Yanga players faired against the Rollers.
Youthe Rostand
Saved a Lemponye Tshireletso strike and made other crucial stops to maintain his good form which started in the last Ligi Kuu game against Stand United. 6
Juma Abdul
Came in to replace Hassan Kessy who was suspended, attacked with his usual predictability and never really hit it off with Pius Buswita down the right. His defending was sloppy when under pressure. 5
Gadiel Michael
He was poor when the hosts seemed to target his side. He did not do much going forward, his delivery was far from convincing. 4
Vicente Andrew 
Man of the Match Performance. Defended securely. Has barely shown any signs of ring rust since this was his first game after being sidelined for a month because of a knee injury. 8
Kelvin Yondani
He was the man to lead the back line and surely he did not disappoint. He was involved in every important interception to keep the host at bay. 6
Juma Said
Deployed as a defensive midfielder. He played with typical aggression and he did not leave much space for the host to create chances. 6
Pappy Tshishimbi
Came back from injury and again had a commanding display. Providing the inviting pass for Obrey Chirwa who hit the side net. 7
Thaban Kamusoko
Struggled to get involved as a playmaker and there was little sign of any understanding with Obrey Chirwa. Rollers regularly overwhelmed him. 4
Pius Buswita
He had a quiet game mainly due to the reason that most of the time Yanga were in the back foot. He tried to link up the play up front with Chirwa but there was not much impact. 4
Obrey Chirwa
He was kept under tight security by the Rollers defenders. Had one clear opportunity in the second half but he ended up hitting the side net. 4
Yusuph Mhilu
The young star who impressed in the last two Ligi Kuu games, came in the starting line-up to replace Ibrahim Ajib because of his speed, power and pace. But in this match he had a long day, there were no space to show his ability because the hosts minimized any kind of threats towards their goal. 5   
 
Subs
Ibrahim Ajib
Came in after 65 minutes and he was lively since he touched the pitch. Combined well with Chirwa upfront and his introduction may be was too late. 6
Geoffrey Mwashiuya
Came in to add pace upfront but surely he did not have enough time to do so, he often couldnt get easily forward because during the time of his introduction the hosts were camped in Yanga's half. 4