Ghana
Olele speaks on new Ghana role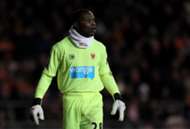 Ghana goalkeeping coach Richard 'Olele' Kingson has spoken about the experience of being back with the national team, albeit in an all-new capacity.
After 90 internationals between 1996 and 2012, the 39-year-old has returned to the Black Stars, but this time as a member of the technical team.
The former Blackpool man was named goalkeepers' trainer following the reappointment of James Kwesi Appiah as head coach of the national team.
"I am always honest and happy to serve my country Ghana. It is a real honour," Kingson told KweseESPN.
"As a coach, I am here to help the young ones to develop and the experienced ones to get their normal time.
"It gives me a lot of joy. It is something that I enjoy doing. I have become used it. I like to do it more than to eat food.
"Sometimes I miss my way and then when we are going for meetings or prayers, I tend to go with the players instead of the technical team.
"I will figure all those out properly as time goes on but being back with this team is in itself a great honour."
Olele was Ghana's first choice goalkeeper at the 2006 and the 2010 Fifa World Cup tournaments, but he's also widely remembered for his last-gap equaliser in an international friendly against Tanzania in 2008.
The Accra-born is currently with the Black Stars in the USA ahead of two international friendlies against the Stars and Stripes and Mexico.