Manchester United
Fellaini: I'm not a thug, I just do my job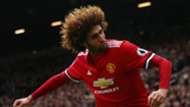 Manchester United midfielder Marouane Fellaini claims to be unfairly portrayed as an "aggressive player", with it merely his job to disrupt opponents and win the ball back.
The Belgium international has had a habit of collecting cards throughout his career, with an ungainly style often getting him into trouble with referees.
He is not afraid to throw his weight around when required, with his physical attributes having been embraced by Everton and United in Premier League and European competition.
The versatile 30-year-old is, however, eager to point out that he is no thug and that he only ever sets out to give his all for the good of the collective cause.
Fellaini told GQ Style: "It think it's easy for them to portray me as an aggressive player, but I'm not. 
"I try to play my game, I try my best to recover the ball quickly: that's my job.
"I try to be better all the time, to give my best for the team, for the club. I always want to improve."
Fellaini's efforts down the years have seen him make close to 250 Premier League appearances and be the subject of big-money transfers totalling over £40 million.
He has been a key part of Jose Mourinho's plans since the Portuguese coach arrived at Old Trafford, with United still hoping that an extension can be agreed to an expiring contract.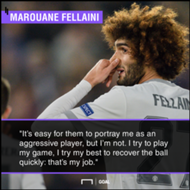 Fellaini's current deal is set to expire in the summer, with it possible that he could drop into the free agent pool.
He may be available to potential suitors when he heads to the World Cup finals, with excitement building within a Belgian squad fancied by many to compete for a global crown in Russia.
Fellaini added: "We hope to do better than at the last World Cup and Euros. 
"We have a great squad and we're four years more experienced. 
"We're ready and want to do something special for the Belgian fans."
Belgium have been placed in Group G at the 2018 World Cup alongside England, Panama and Tunisia.