Nikhil Poojari
Nikhil Poojary - Lucky to have got support from AIFF and East Bengal during injury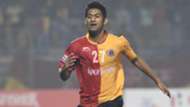 Nikhil Poojary was the breakout performer in the 2017 I-League with East Bengal. Soon, he went on to represent India in the 2018 AFC U23 Championship qualifiers in Qatar in July 2017 and also won his senior cap in the Tri-Nation tournament against Mauritius.

Back with East Bengal for the 2017-18 season, a Calcutta Football League (CFL) winner's medal followed in September. With his career seeing an upward trend, tragedy struck during the build-up to the 2017-18 I-League.

"It was East Bengal's first pre-season game against Bengaluru FC. I still remember the date, it was 25 October. I was actually not supposed to play as I was rested. However, a player got injured (before the game) so I had to play," he told Goal.

"Unfortunately, it was me who got injured for good. At first I didn't feel much but MRIs showed there was a tear, turning out to be ACL in my left leg. Dr Anant Joshi operated on me a month after and then slowly started my rehab," recounted Poojary.

An Anterior Cruciate Ligament (ACL) injury effectively ended his season before it started. The journey back to fitness was hard and the Mumbai-born winger was pleasantly surprised to have received help from the All India Football Federation (AIFF) right after his surgery.

The contributions of Indian national team's physiotherapist Gigy George and sports scientist Danny Deigan were immense. He said, "Gigy Sir and Danny were in touch with me continuously. Three months after the injury, I went to Kerala to meet Gigy Sir for a couple of weeks because in the initial period, a physiotherapist has the most work. After that, Danny sent me a full schedule (of training) to follow.

"AIFF personally wanted to observe my progress and they invited me over to Goa (AIFF Elite Academy). All tickets and accommodation were provided by them. In those two weeks, Danny, Rogerio Ramos (goalkeeping coach) and I were staying together.

"I also spent part of my recovery in Kolkata with the help of East Bengal's trainer (Djair Miranda) Garcia for a week. Coach Khalid Bhai (Jamil) talking to me was also a lot of help as he too had an ACL injury as a player. But Danny's part was the main one because of the program he set for me," he revealed.

Poojary was grateful the Indian FA acted as a major support system and was thankful that he did not turn out to be one of those players that disappeared into oblivion after sustaining a major injury.

"I did not even imagine I would get this much of a help from AIFF. From what I can say, all these happened through the coach (Stephen Constantine). Even he was receiving my updates at regular intervals.

"No one left me stranded after the injury. I got a lot of support from the AIFF and East Bengal. AIFF has done this before when Robin Singh and Anthony D'Souza got injured. During each national camp in Mumbai, they called me for one or two days and reviewed my progress," he said.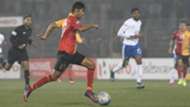 The former Mumbai FC U19s player also went on to praise how East Bengal honoured their part of the contract and never cut him loose. "I was lucky that I got the support. Many players have suffered an ACL injury before and they might not have got that amount of backing earlier.
"Even financially, I had no difficulties. Many people tell that the club doesn't pay their players but in my case, I got my dues on time and never had to ask so. I didn't face any sticky situation," Poojary stated.
Indian Super League
(ISL) side
FC Pune City
have already snapped up the youngster for next season.
"Pune were interested in me right after my national team debut. Even after my injury, they held on. I have agreed to terms but my East Bengal contract ends on 31 May. So, I will sign the contract in June", he said looking ahead to a fresh start next season.
Poojary has resumed running and training with the ball. He aims to be match-fit by July in hopes of a call-up to the national U23 side for the 2018 Asian Games in Indonesia.
Constantine has always liked Poojary as a player and it comes as no surprise that he was looked after by AIFF on the Brit's recommendation. Poojary though isn't counting chickens before they hatch in the run-up to the AFC
Asian Cup
in January next year.
"Don't know about that," he replies when asked if he thinks he would feature in the national team's plans.
"Hopefully (I get into the Asian Cup squad), but, there is a lot of competition. It all depends on my performances. Cannot take anything for granted," he signed off.