Features & Opinions
Nigeria vs. Guinea: Where will the game be won and lost?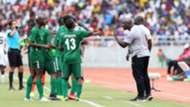 Nigeria, record world champions at Under-17 level, head into Wednesday's U-17 Africa Cup of Nations semi-final against Guinea as clear favourites.
The Golden Eaglets finished with seven points in Group A, topping the group ahead of Angola, and seem destined for a showdown with Cameroon in the final.
Beyond that, there is the fact that Guinea are not themselves powerhouses at this level, and were not expected to make much of an impression in Tanzania. Having qualified for the World Cup in Brazil by virtue of the semi-final place, there is the sense that the aim is already achieved, and anything beyond that is a bonus.
This, however, is what makes them such a dangerous opponent to face: they can afford to play with the pressure off, whereas Nigeria set themselves the target of finishing as champions – a desire that has been stated over and over by coach of the side Manu Garba.
There is also the lingering feeling that Nigeria peaked early, at least offensively. The 5-4 win over host Tanzania in the opening game of the tournament was thrilling, but since then, the team has struggled to finish chances to quite the same degree, and has only registered two more.
Guinea, on the other hand, began slowly, losing to Cameroon in somewhat disappointing fashion, with hardly any resistance. Since then however, they have gone from strength to strength: coming from behind to beat Senegal, before recording a 1-0 win over Morocco in the final group match.
So, with both sides on seemingly opposite trajectories, it could prove to be a lot closer than it initially appears. Their weaknesses are also pretty clear for all to see, and could prove decisive on the day: here's where the game could be won or lost.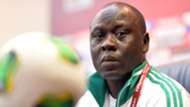 Nigeria's defence against a direct approach
Mohammed Camara's Guinea will pose an interesting challenge, being that their approach is predicated on playing a very direct and physical style.
Senegal coach Malick Daf admitted after his side's loss to them that his team had been unable to deal with their long passes and the robust centre-forward play of striker Algassime Bah.
Considering the Golden Eaglets struggled in the opening game against a similarly physical frontman in Kelvin John, there may be room for the Guineans to make hay.
Lack of midfield control plays into Guinea's hands
Nigeria's bane has often been an inability to dictate the tempo of a game. Indeed, assistant coach Olatunji Baruwa said in the pre-match press conference that they would be willing to match Guinea "power for power", which would be an extremely misguided strategy.
With the Golden Eaglets always itching to get on the attack, there is the potential for an end-to-end game, which would play into Guinea's hands. Focusing on denying them the sort of game they would like to play – slowing it down and establishing technical superiority, instead of getting into a gunfight – would be the way to go.
Profligate attack meets brilliant goalkeeper
Guilty of missing a decent cache of chances in the matches against Angola and Uganda, Nigeria will have an even harder task against Sekou Camara, who has been one of the competition's bright goalkeepers.
Particularly impressive has been his comfort coming off his line to sweep up behind his defence, but he is comfortable under the high ball as well, and claimed Man of the Match honours in the win over Senegal for a string of impressive saves.
His matter-of-fact assertion – "A goalkeeper is first a defender," he said afterward – betrays an intelligence beyond his years.
In order to get the better of him, Nigeria will need to find a clinical edge from somewhere.