Nigeria
NFF still open to reconciliation, says Seyi Akinwunmi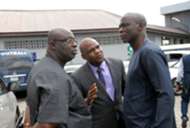 Vice President Seyi Akinwunmi says the Nigeria Football Federation leadership led by Amaju Pinnick is open to reconciliation with Chris Giwa-led faction.
The Nigerian government had conveyed to Fifa its recognition of Pinnick-led board to escape suspension from footballing activities on Monday.
The power tussle between Pinnick and Giwa have endured or four years, with the latter laying claim to the Glass House owing to a Supreme Court ruling.
As part of the move to settle out of court, sports minister Solomon Dalung set up a reconciliation committee, comprising of past football leaders, which will submit a report in a matter of days.
And the Lagos FA boss believes the reconciliation is of great necessity as he desires a united football family to correct the structural defects and governance of the nation's sport.
"I think the congratulation goes to all the kids and the stakeholders who have hope in football," Akinwunmi told media on Tuesday.
"There is no winner or loser on this matter. Everybody who has been arguing will not be in football forever. All of this is only temporary but it is the future of football is the most important. So, there is no war or warriors in this case.
"We [NFF] are still opened to reconciliation and we know it is quite necessary to unify everyone in our football. That's why we met the reconciliation committee and told them that we have no problem with it all. It is also the much reason why the Congress met and took decisions in Benin.
"There is a lot we need to do in improving the governance of football. But while we need some structural reorganisation in our football, we must put the past behind us and look at coming together, settle our differences and think about moving forward.
"I don't see them [Chris Giwa's board] as a faction but as people who have disagreements with the NFF leadership. We hope the reconciliation will put an end to all this matter and help us organise ourselves for the coming Africa Cup of Nations qualifier.
"You will remember that this same situation we found ourselves was part of why we could not qualify for the last two tournaments and we do hope we can resolve to work together for the success of Nigerian football."