Transfers
Neymar to complement or replace Ronaldo? Rivaldo unsure of Real's plans to annoy Barcelona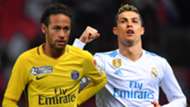 Neymar continues to be heavily linked with a move to Real Madrid, but fellow Brazilian Rivaldo is unsure as to whether he is seen as a replacement for Cristiano Ronaldo or an addition alongside him.
Ever since completing his record-breaking €222 million (£194m/$257m) move to Paris Saint-Germain, the 26-year-old forward has been mentioned as a possible target for those at the Santiago Bernabeu.
Efforts to bring the former Barcelona man back to Spain could be stepped up this summer, especially if Neymar shines on the grandest of stages at World Cup 2018.
Rivaldo admits that a big-money deal would annoy Madrid's eternal rivals at Camp Nou, given that they never wanted to part with a prized asset, but it remains unclear as to what the Blancos' long-term plans are – with Ronaldo currently the star turn in the Spanish capital.
"Of course they'll be really unhappy with Neymar playing for Real Madrid - they were already sad because he left to play in France, right?" Rivaldo told Express Sport on a possible summer switch.
"And for Real Madrid, which happens to be Barcelona's main rival, they won't enjoy it much, of course.
"Right now, it's all speculation. They'll for sure look for a solution so they can both play, Cristiano Ronaldo and Neymar.
"Cristiano Ronaldo is already 33 years old, maybe he can retire, I'm not sure, I'm not sure of what Real Madrid thinks of doing while bringing Neymar there."
Ronaldo has hinted at making a move of his own in the next transfer window, with the former Manchester United star ready to weigh up his options.
Gareth Bale is set to do likewise, but Rivaldo doubts that Madrid would be willing to part with two talismanic forwards over the course of the same summer – even with Neymar potentially arriving.
The World Cup winner added: "I think that when we have good players, every coach always likes to work with good players - three-to-four players with talent makes it even harder for the opponent - any coach wants to have the best players in their teams."