India
India's Prime Minister Narendra Modi meets FIFA President Gianni Infantino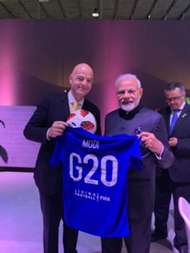 India's Prime Minister Narendra Modi met with FIFA President Gianni Infantino and was gifted a football jersey during his visit to Argentina for the 2018 G20 summit. 
Impossible to come to Argentina and not think about football. Argentinian players are tremendously popular in India.

Today, received this jersey from @FIFAcom President Gianni Infantino. I thank him for the kind gesture. pic.twitter.com/6IszG7fyFC

- Narendra Modi (@narendramodi) December 1, 2018
 The 2018 G20 summit, which took place on November 30 and December 1, was held in Beunos Aires. Ahead of the summit, Modi had attended a yoga event 'Yoga For Peace' where he spoke about how football in Argentina has made an impact in India.
"While Argentina has a keen interest in India's art, music and dance, there are lakhs of fans of Argentine soccer players in our country. Maradona's name has become part of our daily conversations and sayings," the Prime Minister said. 
From Diego Maradona to Lionel Messi, Argentina's football stars have a huge fan following in India. Football in India has been prospering as well, with the Indian national football team at the 97th ranking in FIFA's charts.