Cristiano Ronaldo
'My girlfriend tells me I'm a hot guy!' - Ronaldo explains topless celebrations for Real Madrid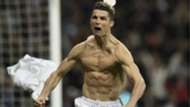 Cristiano Ronaldo has had plenty of cause for celebration down the years, with the Real Madrid forward revealing that he often opts to remove his shirt as girlfriend Georgina Rodriguez considers him to be "a hot guy".
The iconic Portuguese forward is renowned for many things, with an unerring ability to find the back of the net perhaps the most impressive weapon in a remarkable arsenal.
Having plundered 450 goals in just 437 appearances for Madrid, the 33-year-old has established his own unique way of acknowledging those achievements.
His "Siiii" celebration is now replicated by youngsters around the world, with Ronaldo often choosing to accompany his spinning jump with the removal of his top – despite the obvious threat of receiving a yellow card.
Quizzed as to why he feels the need to do that, the five-time Ballon d'or winner told El Chiringuito de Jugones: "My girlfriend tells me I'm a hot guy!"
Ronaldo maintains that he never practices a move which got a first airing during an International Champions Cup clash with Chelsea in August 2013.
When it was put to him that he should be considering a change after almost five years, the Madrid talisman was eager to point out that some people still don't know what he is saying and that he has no intention of retiring the celebration.
He said: "The people still don't know how to say it. It's not Suuuuu. It's Si."
Ronaldo now considers the celebration to be part of his game and maintains that he will not be looking to change his ways any time soon.
Ahead of a Champions League final clash with Liverpool on Saturday, he added: "It's like the hair. People say: 'Why don't you cut the hair? It's a disaster'.
"And honestly it is. But this is my natural hair, you know. It's giving me luck. Why cut it now if it's giving good luck? Leave it."
Ronaldo will be hoping his lucky hair allows him to bring about the customary celebration in Kiev this weekend, with Madrid chasing down a hat-trick of Champions League crowns during a period of unprecedented European success in the modern era.