Thomas Müller
Muller better than Ronaldo and Ibrahimovic in key attacking area, claims Ancelotti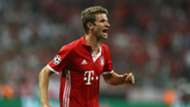 Carlo Ancelotti has coached some of the world's best players, including Cristiano Ronaldo and Zlatan Ibrahimovic, but the Bayern Munich manager insists they do not possess the tactical ability of Thomas Muller.
Having only found the net four times this season for the Bundesliga champions, the German attacker has been on the receiving end of widespread criticism.
His lack of prowess in front of goal stands in stark contrast to that of Ronaldo and Ibrahimovic who have scored 37 times between them already this season.
However, Ancelotti believes Muller's tactical awareness and use of space is unique and believes these qualities will ensure the frontman returns to form soon.
"I did not see a striker with tactical quality like Muller," Ancelotti told ESPN .
"I'm not worried about him. He is mentally very strong, a winner who is never depressed. He thinks positively and has confidence in what he does. "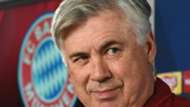 Ancelotti has used Muller in a number of roles, including as a wide forward, and the Italian said the Germany international's versatility is key. 
"We expect a striker to have the best athletics, technique and creativity," he said.
"These are not the strengths of him, but he is tactically excellent, can play any position.
"The press says, 'He is not a striker!' Really? I'm not an idiot! I know he is not a storm type like Robben or Costa. And I will not ask him to imitate them either. "