Zlatan Ibrahimović
Mourinho: It wasn't Ibrahimovic I was disappointed with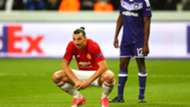 Jose Mourinho insisted that he was not criticising Zlatan Ibrahimovic after his complaints about his side's attack in last week's Europa League tie.
Mourinho railed at his forwards after United conceded a late equaliser last week, forcing a 1-1 draw with Anderlecht.
Revealed: How Dani Alves consoled Neymar
The Portuguese manager stated afterwards that "the players who had to kill the game off didn't", making it the second time he has criticised his strike force this month, following an attack on his front men after the 0-0 draw at West Brom.
Ibrahimovic was dropped at Stamford Bridge on Sunday, though the United manager made it clear that it his benching was not down to disappointment.
"I was not disappointed with Zlatan, I was disappointed with the team," Mourinho said ahead of the second leg against the Belgian side.
"The team had the game in their hands and did not kill the game. We could be speaking now about a friendly game tomorrow had we won 3-0 in Anderlecht.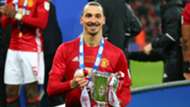 "[The second leg could have been] a nice game, and a chance to play Axel Tuanzebe and some of the other young ones without any pressure. The game was easy to cure and we did not."
Ibrahimovic's future at Manchester United remains in doubt, with constant rumours on whether he'll sign a new deal or not circulating.
Martial's Man Utd dream fading fast
Should he leave for MLS, his final curtain call for the Red Devils could come in his country's capital city, Stockholm, in a potential Europa League final. Mourinho, however, insists that it is not his main focus.
"I don't think about it, I think about Manchester United," he added. "I think it'd be the perfect finale for us.
"It would be the perfect end to the season for us, a difficult season with lots of matches.
"I think for Zlatan it'd be fantastic to play the final in his country, it would be perfect, it would be beautiful – no more than that."