PSL
Mothibi: Orlando Pirates need to reappoint Kostadin Papic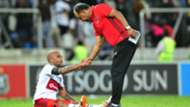 Former Orlando Pirates striker James Mothibi says numerous changes in the team's starting line-up was because interim coach Augusto Palacios wanted to give other players a chance to play.
"I think from my point of view, Palacios wanted to give other players a chance, who haven't been playing lately," Mothibi told Goal.
"Your (Gift) Motupa, (Abbubaker) Mobara, (Marc) Van Heerden and (James) Okwuosa. I think he wanted to give them a chance, but they disappointed the team," he said.
Despite the result, Mothibi believes that Palacios is not a bad coach and calls on the players to up their game, and work hard to play for Bucs as they have now gone seven matches without a win.
"You know, if you can't double work rate at a team like Pirates you are going to fail. Most of the work is yours in the field as players," he continued.
"The coach is only there to guide you through the game. Palacios is not a bad coach. This result makes him look like he is a bad coach, but he is not a bad coach," Mothibi added.
Having played under Kosta Papic briefly during the 2004/05 season at the club, Mothibi says it will be best he takes the reins right now.
"For now, they can bring back Kosta. He is my number one for now. Even Palacios knows, if you call him now he will tell you Papic is right for now," he stressed.
"He will bring changes to Pirates. I am telling you in the first two games, there will be changes because most of his football is forward play, forward play all the time and that's what Pirates needs," Mothibi concluded.