AFC Cup
Mora elated to see JDT progressing to the ASEAN zone semi-final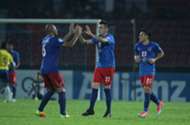 Johor Darul Ta'zim (JDT) were made to sweat in their final Group F match in the 2017 AFC Cup but eventually raised their game to come away with a valuable 3-1 win that took them through to the knockout stage of the competition with a ASEAN zone semi-final tie against Philippines' Ceres-Negros. 
Magwe FC opened the scoring in the 2nd minute of the match and with Hanoi FC leading Felda United in a Group G match - JDT were staring at the exit of the competition. But a hat-trick from Gabriel Guerra help guide the 2015 champions through.
JDT 3 Magwe 1: Johor make to work hard but still advances to AFC Cup knockout stage
Magwe could also have retaken the lead again just before half time but Cho Tun somehow managed to blaze the ball over the bar despite a gaping goal. Benjamin Mora, the head coach of JDT, felt his team had a slow start but recovered well enough to turn the tide of the match.
"I'm always happy with my players' performances. The desire to win this match was very high. The players gave their 120% and always tried to dominate the game from the start. Unfortunately, I feel we started with too much confidence until the opponents took advantage to score a goal in the second minute."
"To make a comeback after the opponents scored was not easy but we successfully dominated the game. The most important thing was the players did not let go of the chance to do their best and they worked hard until the end."
"I'm happy that they didn't give up, and knew how important the victory was. And finally, we got the three points to ensure we progress to the next round," said Mora in a post shared by the club's social media.
Mora pleased with mini-break for his JDT side
Their performances in the group stage wouldn't have sent shivers down the spine of other teams, compared to how they did in the last two season in the competitions but Mora will have two weeks to prepare before facing Ceres.
Undoubtedly, there will be time spent on video analysis of Ceres' game but a visit or a call to B. Sathianathan wouldn't be remiss either if Mora wants to gain further insights into the Philippines' side. Sathianathan's Felda United had managed to stay unbeaten in the two matches against Ceres, drawing one and winning the other.