Australia
Mooy amazed by Huddersfield's 'fairytale' year
Goal Australia Chief Editor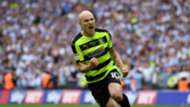 Socceroos midfielder Aaron Mooy has admitted he "definitely" surpassed his own expectations at Huddersfield Town in winning numerous awards as they were promoted to the Premier League.
Mooy is typically quietly spoken and unflappable in interviews but even he appeared taken aback by Huddersfield's achievement last week, labelling their penalty shootout win over Reading in the Championship playoff final as a "fairytale".
Huddersfield make history with promotion
The victory saw Huddersfield to return to England's top flight for the first time since 1971-72.
Speaking in Adelaide ahead of Australia's World Cup qualifier against Saudi Arabia, the ex-Bolton Wanderers junior reflected on an incredible return to English football.
"It's an amazing achievement for the club and for me as well," Mooy told reporters on Monday.
"I'm very proud. You know, the last time the club was in the top flight was 45 years ago or something like that. So to be a part of the team to do that is very special, and I'll always remember that day."
Mooy named Huddersfield Town's POTY
Mooy also won four individual awards during his 12 months on loan at the Terriers from Manchester City, including Huddersfield's Player of the Year gong.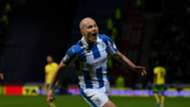 "Start of the season, I didn't really have any expectations because they'd finished 19th last year. So I just wanted to go and try and play as much as I could and enjoy it.
"Just making the playoffs would have been amazing for them but we got promoted so it was a fairytale.
"I always wanted to experience 50 games at least in a season because all the top players in the world they do that every year."
Man City expected to sell Aaron Mooy
Mooy isn't fazed about widespread speculation that City will sell him - numerous Premier League clubs have been linked with his signature - and is instead turning his focus to helping Australia qualify for Russia 2018.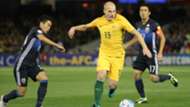 The Socceroos need a win against Saudi Arabia to draw level on points with the Middle Eastern kingdom in Group B as World Cup qualifying approaches its conclusion in Asia.
"Maybe they'll [Saudi Arabia] sit off a bit more because they don't really need to win," Mooy said.
"A draw would be a good result for them. I'm not sure but whatever way they set up we'll have a plan to break them down."