Super League
Mombasa set to activate Fifa pilot project for women in football development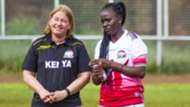 Mombasa will host the first implementation plan of the Fifa pilot project for women's football development at the grass root level.
The project target over 60 million female players by 2026 and  Keyan has been chosen by the international football mother body among the countries that will oversee the implementation of the project.
Fifa Women Football expert Rachel Pavlou, in May 2018, toured Kenya to assess the country' Women football landscape and through her findings, the World Governing Body will, through Football Kenya Federation undertake coaching courses, referees training and leadership workshops for former and current women footballers.
FKF will also initiate U13/U15 leagues through partnerships with Primary Schools, which offer a conducive environment for young female footballers to hone their talent.
The project will get underway in Mombasa where sports teachers drawn from various primary schools will be taken through a coaching workshop, according to FKF. Two more coaching courses have been lined up in Kisumu and Nairobi, with a referees course set to be held in Meru later in December.
Branch Women Representatives will also be taken through leadership workshops to equip them with skills that will help them better coordinate the activities within their respective branches.