Young Africans
Mkwasa: It is a big blow but we will fight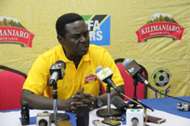 Yanga's General Secretary, Charles Mkwasa has claimed that it will be huge blow for the team to be without some of it's key players when they face Ethiopia's Wolayta Dicha on Saturday, but insisted that they will fight for victory.
Mkwasa added that the match is very important for the club but playing without some of their key players will be a huge mountain to climb.
The Jangwani Boys will be without Papy Tshishimbi, Kelvin Yondani, Obrey Chirwa and Juma Said after they all picked a second yellow card in their last game against Botswana's Towniship Rollers.
Speaking to Goal, Mkwasa said that Coach George Lwandamina will find a solution in training and hopefully the selected players will put in a good performance.
"We have a big squad with a lot of quality players, it is disappointing for us to miss some of our key members, but other players who will get a chance to feature will fight for the team," said Mkwasa.
Yanga will welcome the Ethiopians in Dar es Salaam on Saturday before making a trip for the second leg ten days later.