Mexico
Mexico winger Aquino not taking World Cup spot for granted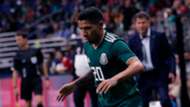 Javier Aquino has been a regular in Mexico squads during the past several years but isn't taking his place on the World Cup roster for granted.
Mexico coach Juan Carlos Osorio named a 28-man squad Monday, which he must trim to 23 players before FIFA's June 4 deadline. Osorio said he would've liked to name the 23-man roster, but injury concerns surrounding several players forced him to call in a larger squad.
Even though Aquino played in seven of El Tri's 10 matches in the final round of World Cup qualifying and was part of the Confederations Cup squad in the summer of 2017, he said he's ready to train hard over the next several days to make sure he's not one of the five players cut.
"I don't feel safe until I'm with the team in Russia. Even though I've been a regular, anything can happen, everything can change. I'm happy and have the desire to get to work," Aquino said upon arriving to Mexico City to join up with the national team at the federation's training base. "We're going to give all our effort to stay on the list of 23. We know it's coach Osorio's decision, but we'll do everything possible to be there."
While it's true that anything can happen, it's unlikely Osorio will leave Aquino at home. Most of the injuries are on the defensive side, and Aquino has improved since Osorio's arrival as Mexico coach.
"I'm in the best form of my career because I'm more mature, and I want to have an important role in the World Cup. I'm a more experienced player," Aquino said.
After the Mexico City training sessions, El Tri travel to Los Angeles ahead of a May 28 friendly game against Wales at the Rose Bowl. The team then returns to Mexico City to continue training at the federation's center before a June send-off match against Scotland. Mexico departs for Copenhagen, Denmark, the night of June 3 ahead of a June 9 game against Denmark. Two days after that match, Mexico arrives on Russian soil and takes up residency in its base camp in northwestern Moscow.