Mexico
Mexico legend Hernandez backs Vela, Dos Santos brothers on LA moves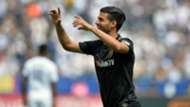 Mexico legend Luis "Matador" Hernandez says El Tri players leaving Europe to play in the United States can still reach their best level ahead of this summer's World Cup.
Giovani and Jonathan dos Santos have been criticized for leaving La Liga to join the LA Galaxy, while Carlos Vela's decision to join expansion side Los Angeles FC from Real Sociedad also has been met with skepticism from many worried their form will slip.
Hernandez doesn't see it that way, though, saying the trio still can contribute to the national team while playing in MLS.
"The criticism is always going to be there, right?" Hernandez told Goal. "The fact that these two young players went to the Galaxy, that's part of their job, part of their profession. They've been well received there in the United States, in the Galaxy and with LAFC, and they can play great football depending on the conditions they have."
Hernandez made a similar move during his career, spending two years with the Galaxy at the turn of the century. MLS has grown a lot in those 18 years since Hernandez's arrival, but "El Matador" says it's not simply MLS but soccer in general that has taken a large step forward.
"Everyone is more athletic, can play more vertically, is preparing much better for games. There's a lot of technology now that allows teams to change," he said. "Well, simply put, being able to enjoy another type of football now to the one we saw several years back is magnificent."
Though he never broke through as a superstar on the club level, Hernandez scored 35 times for the Mexico national team. Four of those goals came at the 1998 World Cup, including two against South Korea, a side Mexico will again face in the group stage this summer.
Every Mexican player on the roster for the 1998 tournament but one was based in the Mexican first division, with goalkeeper Jorge Campos a member of the Chicago Fire, then an MLS expansion team. Things have changed now, with the majority of the team manager Juan Carlos Osorio will take to Russia based in Europe.
Hernandez said the two teams are very different, but the current group must learn from what his generation did well — and what they weren't able to do, when they fell short at the round of 16 like Mexico teams before and after them.
"The comparisons aren't really great. You just have to take the good from what there was before and correct the different errors that we made in the past," Hernandez said. "Today, the Mexican national team is made up of young players, young players who play in Europe, and supposedly they have the experience to have a good World Cup, but they have to translate this experience onto the field with a great attitude and the way the national team is going to play."
One thing that hasn't changed from those days is the passionate support Mexico fans are willing to give to their national team, especially at the World Cup. For Hernandez, the World Cup "means a hope, a happiness for Mexicans to be able to support our national team."
"We're traveling wherever," he said. "Where the national team is, you'll find a Mexican there. We're among the most present fans in every World Cup. Hopefully it keeps being like that for Mexico."