Mexico
Mexico expecting tough Costa Rica that's more than just Keylor Navas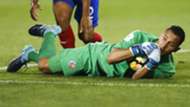 While Mexico is expecting a difficult challenge in getting past Costa Rica goalkeeper Keylor Navas during Tuesday's World Cup qualifier, El Tri coach Juan Carlos Osorio is conscious that the Ticos have more weapons than simply their superstar shot-stopper.
Navas had a tremendous game Friday, helping Costa Rica get a road victory against the United States, and will be key to coach Oscar Ramirez's plan to locking up qualification with a win Tuesday. While Mexico already has clinched a spot in Russia, it's pushing to match and break its record of 22 points in the final round of World Cup qualification.
"We think there are three things to keep in mind with the current national team: the two players out wide who get into the attack really well — right now they're going more into the final third," Osorio said at a news conference in San Jose. "Second, something really important is that [Celso] Borges, in addition to being a central midfielder with the ability to win back balls, he's constantly joining the attack and trying to take advantage of his aerial game.
"And finally, I think the maturity all their players have having played in a World Cup gives them experience, this plus having a good record in qualification. That's why it's one of the best teams in the confederation."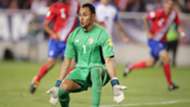 Navas' counterpart, Mexico's Guillermo Ochoa, understands that a match between two of the region's best goalkeepers will invite comparisons. But he prefers to look at the collective that he'll likely have to keep off the board if he starts Tuesday.
"I don't want to talk about just one player. Costa Rica have very talented players on every line — when we've played here before it hasn't been easy," Ochoa said. "Costa Rica always comes out to play. It's a team that likes to attack, that doesn't just close up, and that's what we like most, matches with this kind of open play. Tomorrow we're expecting a complicated, difficult game. They have their goal, and we have ours that still hasn't ended."
"I respect Keylor, I admire him. He's had an excellent career and deserves to be where he is," Ochoa added. "He has his career and I have mine. He does things for his team and country, and I do them for mine. The important thing is to keep a level head and not fall for provocations."