Lionel Messi
Messi suffering worst Clasico run of his career
Lionel Messi is enduring the worst El Clasico run of his career as Barcelona prepare to face Real Madrid at the Santiago Bernabeu on Sunday.
'Rooney has reached the end at Man Utd'
Messi is returning to the scene of his last goal against Madrid in the hope that he can arrest his current six-game Clasico goal drought.
On that occasion, in March 2014, Messi netted a hat-trick to help his side to a memorable 4-3 victory against a ten-man Madrid side.
Since then, however, Messi has found it much tougher and even failed to find the net in last season's 4-0 rout of Madrid at the Bernabeu after coming on as a second-half substitute following his return from a long-term lay-off.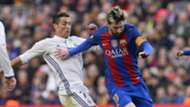 Messi remains the Clasico's all-time leading goalscorer, though, with 21 goals in 33 appearances to date, though in recent games his rival, Cristiano Ronaldo, has had more success, scoring three in his last six.
Greed revealed as BVB bus bomb motive
Ronaldo earned plaudits in last season's 2-1 win at Camp Nou after his goal ended Barcelona's 39-game unbeaten streak, but he failed to register in December's 1-1 draw.
Barcelona currently sit three points behind Madrid in the table, though Zinedine Zidane's side still have a game in hand, putting them in the driving seat in the title race.