Lionel Messi
'Messi needs to break, to breathe' - Argentina absence justified, says Maradona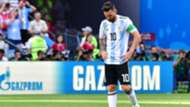 Lionel Messi needs "room to breathe, a break", says Diego Maradona, with the Barcelona star urged "not to travel anymore" with Argentina.
On the back of a disappointing showing at World Cup 2018, a man who skippered his country in Russia is weighing up his options.
The 31-year-old has been left out of the Albiceleste's latest squad and Maradona believes the five-time Ballon d'Or winner should take an extended breather from international duty.
"I'd give Messi room to breathe, a break," the 1986 World Cup winner told Ole.
"I'd tell him to play in Europe, not to travel anymore and not let them use him.
"He doesn't need to go and play a friendly just because the team wins more often with him in it."
Argentina are entering a new era with or without Messi, with Jorge Sampaoli having left his managerial post.
The search is now on for his successor, with several candidates having been mooted.
Maradona has suggested that attention should be shifted back to Cesar Menotti, despite the 79-year-old having been out of management for over 10 years.
The Albiceleste appear to be looking more towards the younger generation, but top talent such as Diego Simeone and Mauricio Pochettino will not be easy to prise from Atletico Madrid and Tottenham.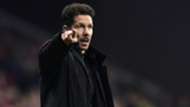 Maradona said: "If I had to choose, I'd pick 'Flaco' Menotti.
"Simeone won't come for a lorry load of cash to get involved with this and Poch is earning a fortune at Tottenham, and he'll keep doing that. Afterwards there's no one else."
Part of the problem for Argentine football, according to one of its favourite sons, is that they are not doing enough domestically to prepare themselves for international glory.
"We have the cheek to call that a 'Super League'?" Maradona said.
"We don't have pitches, balls and some teams spend two days travelling by bus. And we call that a 'Super League'? The nerve of us!"