Paulo Dybala
'Messi an alien, Dybala the best of the humans' - Nedved expecting big things from Juventus forward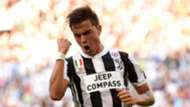 Paulo Dybala can be "the greatest of the humans", says Pavel Nedved, with the Juventus forward already being compared to "alien" Lionel Messi.
The Argentine has been in sparkling form this season, leading him to be placed in a bracket alongside Barcelona's mercurial talisman.
Dybala has scored 12 times in 10 appearances, with speculation suggesting he is destined to join Messi in Spain at some stage, either at Camp Nou or Real Madrid.
Nedved hopes such a move does not happen, with the 23-year-old vital to the Juve cause, but concedes that the talented South American is destined to reach the very top of the game.
Dybala 5/2 First goalscorer v Lazio
An iconic figure from his playing days in Turin, Nedved told La Repubblica: "I have seen great players who were unable to handle the weight of wearing this jersey, which contains within it all the names of the past heroes. It is much more difficult here, as even if you draw, it's like losing.
"Dybala will become the greatest of the 'humans' – because Leo Messi is an alien – because he's got a good head on his shoulders and knows how to work on his mistakes.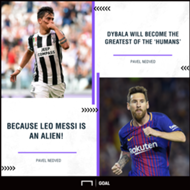 "I hope nobody will take him away from us, but after Neymar to PSG, anything is possible. The transfer market has gone crazy.
"At the end of the day, it's up to the players to decide: if they've got balls, they will stay at Juventus. If people only think about money, they will certainly make the wrong decision."
Dybala joined Juve from Palermo for €32 million in the summer of 2015, scoring 23 times in his debut campaign for the club, before adding 19 to that tally last term.
Now well on course to set a new personal best in terms of contribution over the course of an entire season, Dybala is chasing down a third successive Serie A title.
He also has a World Cup to look forward to in 2018, with the efforts of Messi having helped inspire Argentina to Russia and presented them with another shot at global glory.