Manchester City
Mendy reveals Man City half-time team talk as Ederson shrugs off penalty blame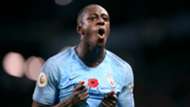 Manchester City's players used the memory of April's painful Manchester derby defeat to spur them on to victory against their local rivals on Sunday.
City had the opportunity to clinch the Premier League title in record quick time when they took on Manchester United last season, but surrendered a two-goal lead and fell to a shock 3-2 defeat.
And Blues left-back Benjamin Mendy has revealed that the spectre of that game loomed large when the two sides met at the Etihad Stadium this weekend.
With City leading United 1-0 at half-time courtesy of David Silva's early goal, Pep Guardiola's men felt the need to remind each other of what had happened in the previous clash.
"In the dressing room at half time we had spoken about what happened in the derby last year, and we were telling each other not to let that happen again," the Frenchman told reporters after the match.
"We remember it went 2-1, 2-2, 2-3, so we said we had to stay focused, keep trying to play and make chances.
"Every player was saying the same thing; 'OK, guys, don't do the same as last year, be careful, pay attention.'
"So when we came back on the pitch, we played better than the first half, so won the derby."
Sergio Aguero made it 2-0 to City shortly after half-time, although United did threaten another comeback when Anthony Martial converted from the penalty spot after Ederson brought down Romelu Lukaku.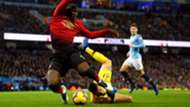 It was the second time in successive Premier League matches that the Brazilian goalkeeper gave away a penalty after being beaten to the ball by a striker, having felled Southampton's Danny Ings last weekend, but he did not appear overly concerned in a post-match interview with ESPN.
"I haven't watched the penalty yet," he said. "I tried to retract my hands but had no time to do that. There was contact between us but I don't know if it was enough for a penalty.

"It's a quick decision in a moment of the game," he added when asked about the similarity to the Southampton penalty. "I tried to hit the ball, it happens. When a goalkeeper makes a mistake, there is no one to save the goal. A striker can miss three or four chances and still score the fifth. It's different for a goalkeeper."
City eventually wrapped up victory when Ilkay Gundogan finished off a mesmerising 44-pass move that spanned over two minutes of playing time.
The win not only ensured City stayed two points clear of Liverpool at the top of the Premier League, but 12 points clear of eighth-placed United after just 12 games.
Bernardo Silva, who provided the assist for Gundogan's goal, doubts that United will be able to win the title this season.
"It won't be easy," he told Sky Sports. "Not only [are they behind] Man City – [they are] 10 points from Liverpool, a lot of points from the other ones as well. They need to be almost perfect and wait for the other ones to lose a lot of points. I think it won't be easy."